No 1
You Are 24 Years Old

Under 12: You are a kid at heart. You still have an optimistic life view - and you look at the world with awe.

13-19: You are a teenager at heart. You question authority and are still trying to find your place in this world.

20-29: You are a twentysomething at heart. You feel excited about what's to come... love, work, and new experiences.

30-39: You are a thirtysomething at heart. You've had a taste of success and true love, but you want more!

40+: You are a mature adult. You've been through most of the ups and downs of life already. Now you get to sit back and relax.
No 2
Your Japanese Name Is...
Hisano Kujo
No 3
You Are 40% Weird

Normal enough to know that you're weird...
But too damn weird to do anything about it!
No 4
You Are Cinderella!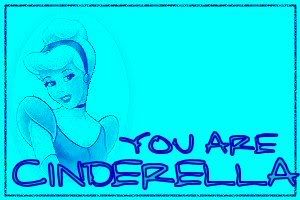 Dignified and hard working. With a gentle and soft-spoken manner you have something many people don't. Patience. Even through the moments of heartbreak you're still able to hold onto all of your hopes and dreams. Bide your time; your dream will come true.